BioFuel - What is it and where do I get it from?
Bio Fuel, or Bio Ethanol is a renewable source of plant based alcohol. When fruit ferments, for example with grapes making wine, or apples making cider, and various other plants materials can be used, the by product to that is 100% alcohol - Bio Fuel. The Clean Green Alternative! 100% Carbon Neutral.
Because the BioFuel is a natural fuel, a huge added benefit is that it doesn't dry the air out like gas or heat pumps do. Not only that, but LPG is a very toxic gas that needs to be vented, and the cost of electricity and LPG is always on the rise. BioFuel fires are so clean burning, that they don't need to be vented, or connected to any sort of chimney, and aside from the automated options, don't require any power to operate them. Because they don't require a chimney, all the heat stays inside, and that's what makes Naked Flame fires so efficient and so effective.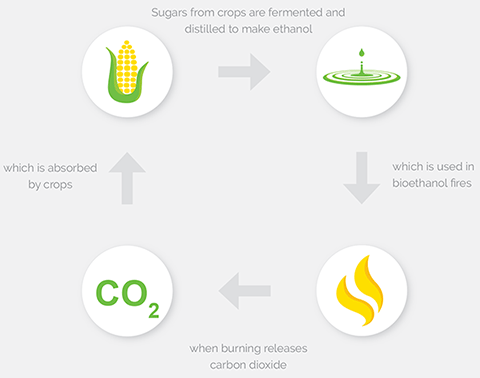 Is it safe to drink? Absolutely not! It is illegal for anyone in New Zealand to sell 100% alcohol, so a denaturing agent needs to be added. Naked Flame have teamed up with an experienced bio chemist to create a very low odour, very clean burning Ethanol Blend of 99% Ethanol and 1% Denaturing agent. Because BioFuel is a plant based fuel, and not a fossil fuel, it is also much healthier and cleaner burning with the amount of Co2 emitted being the equivalent to that of the human breath.
We at Naked Flame source our BioFuel from Fonterra right here in NZ, so can guarantee it's purity and concentration every time, and consequently only recommend you use our BioFuel for burning in any fire that we sell. We have purposefully made the price of the fuel as low as possible, to make the operation of the fires as low as possible.
You can buy the fuel from us by either calling into store to pickup, or having it delivered to your door, anywhere in the country. We guarantee continuous supply as long as there are cows being milked in New Zealand.
Fuel is only $3 per litre if you buy a fire from us, $5 per litre otherwise.